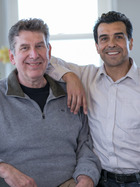 After attending individual counseling sessions at CancerCare for a year, Mike and Luis are now firm believers in the importance of emotional support during a cancer diagnosis. "The first thing I'd say to someone coping with cancer is to expand your network of support," says Mike. "When the opportunity was first presented, I didn't think I had time to go to counseling, but it's been terrific.
Luis and Mike first came to CancerCare after they learned that Luis's cancer – squamous cell carcinoma – had metastasized. "I knew I needed one-on-one attention," Luis says. "Support groups serve a good purpose, but it was getting to the point that I wanted to talk for the entire hour."
Any cancer diagnosis, but especially a terminal diagnosis, can take an immense toll on the person with cancer, their caregivers and their loved ones. Counseling can help lift some of that burden by allowing each person to express and work through their emotions individually. "We've been together for 35 years, so there's already a lot between us," says Luis. Mike adds: "The great thing about coming to CancerCare is that it gives us personal time to address what's going on."
Once a week, if the couple is feeling up to it, they come to CancerCare's New York office. Luis sits down with one of CancerCare's social workers, while Mike works with another. If they're not able to make the trip in from New Jersey, they can speak with their social workers over the phone, from the comfort of home. "The flexibility has been really helpful," says Mike.
In addition to counseling, Mike and Luis have taken advantage of CancerCare's website and library of publications on cancer-related topics. "It has been an amazing source of knowledge," Luis says. "They have information, not just about your diagnosis, but about Medicare, clinical trials – and it's all in one place."
This is particularly important to Luis, who shares: "My biggest advice to anyone struggling with cancer is that you have to be your own best advocate. Also, write down everything. I had to let everyone know that I was serious about my treatment and I expected the same from them."
And yet, both men understand the challenges and stigmas that surround speaking up and seeking help. "I am Latino, from Chile. I was brought up hearing that it was important to toughen up, to keep your head down, to push forward no matter what," says Luis. "It took me a long time to acknowledge that I needed help."
Now, they're both glad that counseling is part of their care, and that it's something that they do together. "If you're thinking about reaching out for support, don't delay," says Mike. "The sooner you're able to get help the more help you'll find. My counselor, Mayra Sandoval, is very insightful. She's great at reflecting back what I feel."
"CancerCare has been amazing," agrees Luis. "Counseling helped me cope with a terminal diagnosis. My social worker, Elizabeth Ezra, was with me when I found out when one treatment didn't work, then another. She helped me talk through it."
"Liz's advice is to keep talking," says Mike. "Now is the time to focus, not just on the cancer, but on living life and making good memories."
« Back to stories