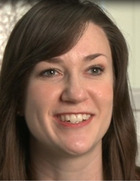 My husband, Jonah, referred me to CancerCare after he was diagnosed with melanoma in 2008. He had noticed that I was getting stressed out with my caregiving [responsibilities] and found a program for caregivers, specifically for young adults, through CancerCare.
One of the biggest challenges that I was facing as a caregiver was feeling the need to be "on" all the time, feeling that I had to be the one who remained strong and healthy. I was having a very hard time socially because I was surrounded by people who loved both of us and supported us, but there was no one in the room who really understood what I was going through.
The young adult caregiver support group at CancerCare really gave me an outlet, one hour a week, to talk to people my age that were going through the same thing that I was going through. I could be completely honest, and didn't have to put any sort of a façade on it. It freed up so much space in the rest of my life to interact with my friends and family the way I wanted to.
The other people in my support group were very supportive in helping me to voice very honestly what I was feeling. I [initially] came to the group looking for advice, but I realized by the end that advice wasn't necessarily what I needed. I really needed a safe place to share what I was feeling with people who would listen and would understand.
Some of the most important things to keep in mind while caring for a loved one is that it's important to listen to them and give them a safe space, but also to have them listen to you and let them take care of you a little bit sometimes. Jonah really enjoys taking care of me and it makes him feel useful. It makes him feel active about his life and helps him to give back.
CancerCare has really given me a safe place to let loose all of my fears so that I can continue to be a normal person and live my life. It helps me be a good wife, caregiver, and friend to Jonah, and to be a good friend and family member to everyone that cares about us.
« Back to stories