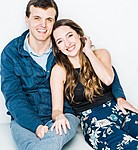 Jessica's husband, Tommy, was diagnosed with esophageal cancer in October 2017, shortly after returning home from their honeymoon. Tommy had always lived with chronic acid reflux, and for the year before his diagnosis, Jessica and Tommy thought his symptoms were simply indigestion. "His endoscopy appointment kept getting pushed back because we didn't think there was anything to diagnose," said Jessica. Initially, Jessica and Tommy were in denial about the diagnosis. Esophageal cancer is commonly an older person's disease, and Tommy was 26.
After the initial denial, Jessica quickly went into game-plan mode. "I wanted to speak to every doctor," she said. On top of communicating with doctors, Jessica also worked to keep their loved ones in the loop. "There's a certain PR aspect of cancer," she said. "I was sending messages to everyone. I thought I could do cancer on my own," she said. Jessica felt an added layer of pressure to share information in a way that protected the people that they loved. Between caregiving and communicating with doctors and loved ones, everything became a bit of a whirlwind. As a result, her health declined, and she ended up getting sick herself. "You can't pour from an empty cup," she said.
That's when she began individual counseling with a master's-prepared oncology social worker at CancerCare. For Jessica, it was helpful to have someone who was outside of the situation who had experience helping people affected by cancer. Jessica eventually learned better strategies to communicate. When she was burnt out, she'd respond to text messages with, "I don't have the energy to respond right now. I'll get back to you soon." Her advice for caregivers is to "know that you have control over how you share and who you share with." Tommy also began participating in a CancerCare support group, which helped Tommy to open up about his experience. Jessica said the support group has been comforting to Tommy because there's a "huge sense of knowing" in a group where everyone can relate to having cancer.
When Tommy's cancer recurred, Jessica and Tommy were not confident about the chemotherapy care plan their health team of a year had suggested. They decided to get a second opinion. Finding a new care team brought up the option of clinical trials, and the new treatment had a positive effect on Tommy. "Don't be afraid to get a second opinion," said Jessica. She emphasized the importance of cancer patients advocating for themselves and their health. "I will ask 100 questions at every doctor's appointment," she said. During Tommy's treatment, she organized information like doctor's numbers, prescriptions and appointment times in a planner. It was such a useful tool that she began making planners for others and calling them "The Better Book." She sells them through her business, Better and Co.
"Cancer has provided a unique perspective shift," said Jessica. "It's a crash course into what matters most."
« Back to stories