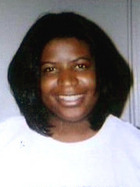 Rasheen noticed a suspicious lump after having difficulties breastfeeding her youngest son, Abraham. In 2009, the mother of five was diagnosed with advanced breast cancer.
"I was only 38 and didn't think it was anything at first. It turned into an ultrasound, a biopsy, then an MRI and then a mastectomy," remembers Rasheen.
During her treatment, Rasheen grappled with feelings of helplessness. "I felt lost because I couldn't do the duties that I was able to perform before the cancer – taking care of the house and the children. I felt like I wasn't doing enough. There was always the question of if I don't survive, what's going to happen to our children. They won't know their mother."
Rasheen's husband, BK Davis, became her primary caregiver and put his career as a Steinway International Artist on hold to be by her side. "My husband would just play music for me. I think the help of prayer, faith and music all contributes to not feeling alone." Her mother also became a strong source of support and caregiving from afar.
The Florida family also began struggling financially as medical bills mounted. They decided to reach out to CancerCare for help. "Money was getting tight. I applied for grants and different types of help. I found that CancerCare was just the number one resource for information and financial assistance. They understand the emotions that you're going to go through. It's a one-stop shop."
Rasheen knew that she wanted to give back and share her experience with others and so she began writing "The Chemo Room." The book, to be released in February 2015, talks about her life leading up to cancer, her experience in the chemotherapy room and gives tribute to caregivers. Proceeds from the book with benefit people affected by cancer.
Rasheen now serves as her husband's manager and the couple will head out on a 25 city tour in 2015. At each stop, she will share her cancer story with the audience. "After 20 years in corporate America, I had to give it up and now I've found another way to be useful – working with my husband and advocating for CancerCare. I'm truly grateful that this is my time to give back."
She has made it her personal mission to help other women and their families to regain the usefulness of their lives after the pain and fear of breast cancer. "Cancer caused a lot of depression and anxiety. Some days I feel good and those are the days when I tell someone my story and it helps them. I feel like this is a new reality for me. It's a whole new life. "
« Back to stories