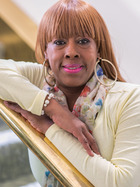 In November 2005, Anita began to notice swelling on her nose, neck and stomach. "I used to tell people, 'Look, I've just got a little acne.' And then it got too big."
After seeing a doctor and being referred to an oncologist, she was diagnosed with Hodgkin lymphoma. During her radiation treatments, Anita decided to continue working. Needless to say, it wasn't easy. She recalls, "I'd get up at five in the morning, go to the office, work from seven 'til three, get on the train and then transfer to another train and then transfer to a bus, and then get the radiation and I'd be at the hospital until like eight, nine-o-clock.
"There were times when I would just cry," she says. "And I would say, 'Why me? I didn't do anything to deserve this.' All I wanted to do was go to college and graduate and get a good job, and I did all of that, and I never expected to get cancer."
Anita's oncology team noticed that she was struggling, and recommended that she call CancerCare. Though she initially contacted CancerCare for transportation assistance, she ended up taking advantage of CancerCare's full range of free, professional services, including individual counseling, co-pay assistance and reiki workshops. "Thank God for CancerCare," she says. "If we didn't have agencies like this, I don't know where we would be."
She advises others who are coping with cancer to reach out to organizations like CancerCare for help, even if they feel they have a strong support system, because friends and family can't always be there to help. "I have a lot of good friends, but when you're alone, you know, that's when you think," she says. "When that happens, you pick up the phone. There's people you can reach out to."
Anita also draws strength from staying positive and staying busy. "You have to be uplifted, because anything down or bad or negative in your life, when you're going through this, you take it on more," she says.
"I get a lot of support from my church. I do ten laps around the track, I swim, I'm on the treadmill for like an hour or two hours. I go to cooking classes. I get reiki. I say, 'I got cancer and I got healthy!'"
Even so, Anita will readily admit that there's a difference between having a positive attitude and pretending that cancer is a walk in the park. "Cancer is ugly. My niece said, 'Auntie, you make cancer look pretty.' I was like, 'Yeah…see me in the morning, without the wig.'"
Still, she has confidence in herself and is determined to live her life to the fullest. "I've been battling this cancer, I'm gonna beat this cancer," she says proudly. "I have it, and it doesn't have me."
« Back to stories