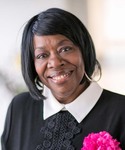 When Marlaine was diagnosed with bladder cancer in 2015, it immediately took a toll on her emotional well-being. "I was really depressed," she recalls. "I kept asking myself, 'Why me? I do everything right, I eat healthy, how could this happen?'"
A social worker at New York-Presbyterian hospital referred her to CancerCare, where Marlaine decided to join a support group. At first, she didn't know what to expect. "I'd never done a support group before," she says. "I thought every group would be based on a topic, but it was an open discussion about what we were feeling and going through. The experience was more laid back, and very, very helpful.
"The support group was good because I had something to look forward to, and I could meet other people who were going through the same thing as I was. It made a difference to know that there are other people going through the same thing, and having the same feelings. We shared a connection by telling our stories."
In particular, Marlaine is grateful for her group's advice and support when she was making a major decision about her career and volunteer work. Marlaine works as a caterer and volunteers as a counselor at Camp Amerikids, a free, one-week summer camp for children with sickle cell disease and HIV/AIDS. "I like mentoring children," she says. However, the physical changes she experienced during her cancer diagnosis made her second-guess these commitments.
"I had wanted to stop catering and being a counselor," she says. "I didn't want to go back to the camp, because the bladder cancer left me with an Indiana pouch, which I need to catheterize every few hours. I was really ashamed. The people in the group were very helpful. They told me, 'We all get up and go to the bathroom at night!' It was something that seemed so private, but talking to other people helped me see that it's not something I should be ashamed of." Thanks to the encouragement of her fellow support group members, Marlaine just submitted her application to volunteer at Camp Amerikids this year.
Marlaine wants other people coping with cancer to know how important it is to find someone you can talk with openly about your experience. "Although you might feel ashamed or guilty or depressed, you need to talk to other people so you can see that you're not alone," she says. "Maybe you can find someone who you can identify with. Even if you don't, you can still learn a lot from other people."
She also wants other people who are thinking about contacting CancerCare to know that they'll be welcomed and treated well. "The staff at CancerCare is so thoughtful. I had a friend who came with me every week to sit and wait until I came out of my support group. Your staff treated him so well. He always had a cup of coffee. I think it's wonderful that you don't just treat patients well – you also look out for their friends and family."
« Back to stories