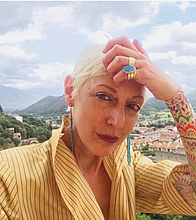 An artist, mother and 3-time cancer survivor, Marianne first found out she had cancer in 1994 when her husband noticed a lump on her clavicle. The lump was sitting on a nerve and had been causing bad back pain. "At the time, I was more interested in getting rid of the back pain than I was focused on the lump," said Marianne. That lump turned out to be Hodgkin lymphoma (HL). Her spleen was removed, which is a common practice in the treatment of HL, and she underwent mantle field radiation treatment.
A biopsy in 1997 revealed that Marianne was never fully clear from HL. She underwent radiation treatment and ABVD chemotherapy. Around this time, Marianne got pregnant with her son. She was originally told that she would be unable to have children. She calls her son her "little miracle."
Because of the mantle field radiation that she'd received to treat her HL, Marianne developed breast cancer. She underwent chemotherapy again and had a bilateral mastectomy in 2014. She eventually went for reconstruction surgery, but she was prone to infection. She was at risk of going septic, so "I'm flat," she shared.
When she was first diagnosed, she didn't know anyone else with cancer. "It was a very lonely time," she said. She joined a general support group at her hospital that was open to people of all diagnoses and ages. There wasn't anyone in her age group. Then she found CancerCare and our Young Adult Support Group. "CancerCare was a game-changer for me," she said. "Everyone in the group was in their 20s or 30s. We were all talking about this world that only we understood," said Marianne. Even though everyone in the group was facing their own difficult obstacles, "our counselor was great," said Marianne. "She didn't let us derail." Marianne formed strong bonds with her fellow members. "We would leave the group and continue talking in the parking lot," she said. It's been years since Marianne was part of the support group, but she recently had dinner with friends she met there, showing how powerful those ties remain.
Marianne also turned to art to help cope with her diagnoses. She comes from a family of artists and had worked as a decorative painter. Her art has since become largely based on cancer and encompasses all cancer diagnoses. She's currently in the process of making a book of her art.
For others who are facing cancer, Marianne has this message: "There's courage inside of you that you never knew you had. You can do it! Seek help. Meet other people who are going through this. Know that you're not alone."
Marianne is a proud advocate for people who have cancer. "I look at what I lost, but also look at what I gained," she said. "Cancer made me who I am."
« Back to stories