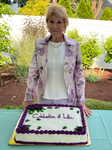 At 79, Sandy, who splits her time between New Jersey and Florida, is far from slowing down. After facing a diagnosis of pancreatic cancer, she continues to maintain an active lifestyle, walking three miles a day, traveling to warmer climates and running her own business, with the backing of three others. "I'm not one to sit around, I can't sit and watch TV all the time. I'm just very active for my age," said Sandy.
While she's faced hardships due to her own diagnosis and losing her husband to cancer, Sandy recalls the invaluable moments of support from those around her, including from organizations like CancerCare.
When her husband received a diagnosis of prostate cancer in 1996, they first turned to CancerCare for support. In their initial meeting with Kathy, a CancerCare oncology social worker, Sandy felt an immediate sense of comfort. "Kathy was incredible," Sandy said. "The first time that I met with her, my husband was with me. I continued seeing Kathy almost on a weekly basis for support while he was ill."
The emotional guidance Sandy received helped her to cope during those challenging times. "No matter when I called Kathy or saw her, there was always something positive that came out of our meeting," Sandy said. "I might have been crying hysterically, but there was always some positivity."
When Sandy's husband passed away in 1998, she once again found comfort from CancerCare. She took part in a support group facilitated by Kathy. "It was also very helpful because it's comforting to hear that other people are going through the same situation," she said.
For over a decade after that, Sandy was a steadfast participant in CancerCare's annual Walk for Hope that took place in Ridgewood, New Jersey for many years. Accompanied by her three daughters and rallying over a dozen friends every September, Sandy and her team collectively raised tens of thousands of dollars each year, all in support of CancerCare's services. Reflecting on her involvement, Sandy said, "It kept me busy, it kept me out of trouble and I wanted to help CancerCare. I really do feel that they're there for you. I was devastated when my husband passed away and it took me an awfully long time to find my footing. I would not have found it without CancerCare, that's for sure."
Sandy's own diagnosis of pancreatic cancer in 2022 led her back to CancerCare for the emotional support she needed. "Of course, I reached out to Kathy because I needed support for myself," she said. "I think we had 12 sessions and she helped tremendously."
Facing a cancer diagnosis and navigating the complexities of grief are challenges no one should have to face alone. Sandy's resilience has been supported through the comfort of a listening ear and from speaking to others who have also been impacted by cancer. All of which has helped her to persevere, find hope and heal along the way. "CancerCare is a unique organization. It has helped me through some very difficult situations and I will be forever grateful," said Sandy.
« Back to stories