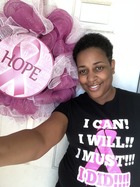 Tamara's cancer experience began in February 2017, after a suspicious lump in her mother's breast was diagnosed as breast cancer. "When my mother was diagnosed with cancer, my whole world stopped—and then we heard it was metastatic," Tamara recalls. While still working as a paralegal at a small law firm in Texas, Tamara along with her siblings, became her mother's primary caregivers, accompanying her to doctor's visits, driving her to treatment appointments and helping to coordinate her care.
Then, within months of each other, both Tamara and her sister were also diagnosed with breast cancer that fall. When thinking back on that turbulent period, Tamara says, "I told myself, 'This has to be a joke.'"
Two months after Tamara started treatment, she left her job at the law firm. She found herself emotionally and physically drained between caring for her mother and coordinating her own treatment. Tamara applied for financial assistance to offset the cost of transportation after another one of her sisters, who is now a survivor, recommended CancerCare's services. "While meeting and beating every obstacle that was thrown my way, I was also assisting in caring for my mother and emotionally assisting my sister through her battle with breast cancer. Thanks to CancerCare, my family was able to stay afloat while I fought the hardest battle of my life."
In December 2017, Tamara's mother passed away from breast cancer, requiring Tamara to once again establish a "new normal" in her life. Shortly thereafter, Tamara was hospitalized with stress-induced cardiomyopathy, also known as broken heart syndrome.
"Dealing with the loss of my mother while I was fighting my own cancer diagnosis was hard. My sister's mastectomy was scheduled four days after my mother's funeral which also happened to be my second to last chemo appointment," shares Tamara. "My faith has been my coping mechanism." Tamara also found that journaling has helped her cope with feelings of grief, and she is currently writing a book about her experience battle with breast cancer while caring for her mother and sister as well.
Looking back on the past few months, Tamara recognizes that she has a greater appreciation for each day. More importantly, she wants to establish a legacy of strength and resilience for her children, aged 11 and 7. "I want my kids to know that I'm doing everything that I can to beat this. Knowing that my life has changed and that every doctor's appointment is a worry, I've got to live each day to the fullest."
« Back to stories