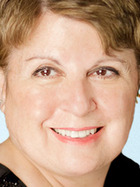 My name is Donna and I am a breast cancer survivor. But my journey with cancer began long before my own diagnosis in March of 2009. It actually started in 2005 when my husband Peter was diagnosed with cancer of the esophagus. Although I lost Peter in July 2009, I will never forget the role that CancerCare played in bringing comfort and support to both of us.
When Peter was first diagnosed, I looked for resources to help with the emotional and financial difficulties that we faced. I heard about CancerCare and made an appointment to meet with one of their oncology social workers. We received counseling, financial assistance and ongoing support.
Then in March of 2009 I was diagnosed with breast cancer. Once again CancerCare was there for me. They helped me to feel pretty again by giving me a free wig. I also received financial assistance and counseling during my diagnosis and treatment.
I feel so fortunate to have had the constant support of CancerCare throughout this cancer experience. My life has been completely changed because of this disease but thanks to CancerCare I have the support I need and hope for the future.
I am looking forward to giving back as much as I can as a cancer survivor and caregiver, and to honoring the legacy of my husband Peter.
« Back to stories