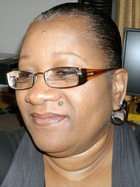 I was very calm and numb in the beginning [after my diagnosis], but after a week or so, I completely "freaked out." I was overwhelmed with emotions, questions, concerns, and yes, sometimes fear. Having had a sister who died because of breast cancer, I was grateful that I sought answers early enough to save my life, but still had that nagging question in the back of my mind: "Will I actually make it through this?"
Because I was laid off from my job just short of a year before being diagnosed with aggressive stage-II cancer, I had nowhere else to go, since my treatments were overwhelming and left me with no energy to work. Things got pretty bad.
I was referred to CancerCare through one of my social workers at City of Hope Cancer Treatment Center, where I underwent surgery for a mastectomy and currently receive radiation treatments and hormone therapy. CancerCare came through for me, helping me to attend my daily radiation treatments that extended for seven weeks. I just want the people of CancerCare to know that I will never forget what they did for me, and that what they present to cancer patients and caregivers is the most wonderful gift you can give to anyone.
« Back to stories