Exploring Cancer Out Loud, Part I: From Idea to Reality
Today marks the season four debut of Cancer Out Loud: The CancerCare Podcast! We are exciting to continue amplifying the stories and experiences of people living with cancer, caregivers and the bereaved.
To celebrate the premiere, we decided to take a look back at the show's beginnings. This is part one of a series. Read part two.
Cancer Out Loud is a passion project that has come to life thanks to the dedication of a small but mighty team led by Sarah Paul and A.J. Cincotta Eichenfield. Sarah Paul, MSW, LCSW, OSW-C, is CancerCare's Director of Clinical Programs. She oversees the podcast's structure and strategy and has, at some point, handled almost every task related to the show. A.J. Cincotta-Eichenfield, MSW, LMSW, is Cancer Out Loud Program Coordinator. He selects and screens potential podcast guests, edits audio, creates graphics and writes episode descriptions.
What do you remember most about the early days of Cancer Out Loud?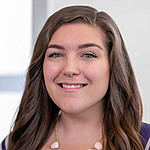 Sarah Paul (SP): In 2016, I became infatuated with the podcast Serial. I was commuting four hours each day to and from work and found podcasts to be a perfect way to pass the time. I started considering a podcast for CancerCare after realizing what an amazing platform it would be to uplift the voices of our clients. At the time, I was CancerCare's Child and AYA (Adolescent and Young Adult) Program Manager and felt that a podcast focused on young adults would be a great expansion of the program. I mentioned it in passing in a meeting and the rest is history.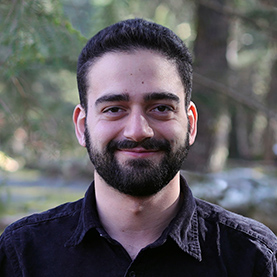 A.J. Cincotta-Eichenfield (ACE): I remember one of the first big group meetings I attended pretty vividly. There were a lot of ideas flying around the room, and a lot of interest from so many different corners of CancerCare. As someone with a background in creative media in addition to social work, I had a hunch that I could be helpful from a technical standpoint and volunteered for several different things—not fully knowing what I was getting myself into or how it would grow. At the beginning, it felt a little like several social workers figuring out how to screw in a lightbulb, but now that lightbulb is on and glowing bright!
How has the show changed since Season 1?
ACE: Season 1 was recorded before the pandemic, so many of the ways that the podcast has evolved reflect how COVID-19 has affected all our lives. On a practical level, that meant learning to record and produce "virtually" from our apartments and homes, rather than in-person at our Manhattan office.
SP: In the long run, learning to produce episodes remotely has allowed us to expand our pool for guests outside of New York. We've had guests record from Ohio, Illinois and Washington.
More importantly, our ability to learn those skills quickly allowed us to create timely content for listeners. We didn't expect to have the opportunity to share important information about how to cope with "everything cancer" during the pandemic, but we took that challenge in stride and turned around our coronavirus miniseries in only a few weeks.
ACE: It's been a unique time to launch a new project. The podcast has been cataloging the impact of the pandemic on the cancer community, in a sense, by recording these very personal narratives of how COVID-19 and cancer intersect.
The show's guests are a huge part of what makes the podcast so riveting. Why do you think they choose to share their stories on the show?
SP: I've met many clients over the years who wanted to share their story but weren't comfortable being on camera. I thought podcasts could be a great way to let clients share while maintaining a bit more anonymity. Now, I see it as more than just a storytelling platform. I think participating in an episode can be therapeutic. From the first call with an oncology social worker to the recording itself to follow-up and the final product, our clients know they are in good hands. Many clients have commented that they felt "lighter" and felt "seen" or "heard" after their podcast recording.
ACE: Appearing on our podcast is an opportunity for people impacted by cancer to define, refine and re-envision their experiences with illness, grief, caregiving and advocacy. These conversations can bring someone's lived experience into a larger dialogue, both within the cancer world and outside of it.
We can never entirely predict what an episode will be until it happens, but a few things are typically true: the podcast amplifies existing and emerging issues impacting cancer communities, and it helps us to connect to new populations and individuals outside of CancerCare's network. Most significantly, our show creates a lasting record of a unique cancer experience, preserving stories of and for the cancer community, our listeners, our guests and their loved ones.
SP: We're so grateful to our guests for their willingness to share these deeply personal experiences. It takes courage to be that vulnerable in private, much less on a podcast. Listening back to each episode, I'm always struck by our guests' generosity of spirit, and I think our listeners really respond to that openness and sincerity.
Read the continuation of this conversation between Sarah and A.J.
The first episode of Cancer Out Loud season 4 is live today. New episodes will be posted every other week through the end of December. You can browse all Cancer Out Loud episodes, or subscribe on Apple Podcasts, Spotify, Google Podcasts, Stitcher or wherever you listen to podcasts.
New Comment