In Their Words: What It Means to Be a CancerCare Social Worker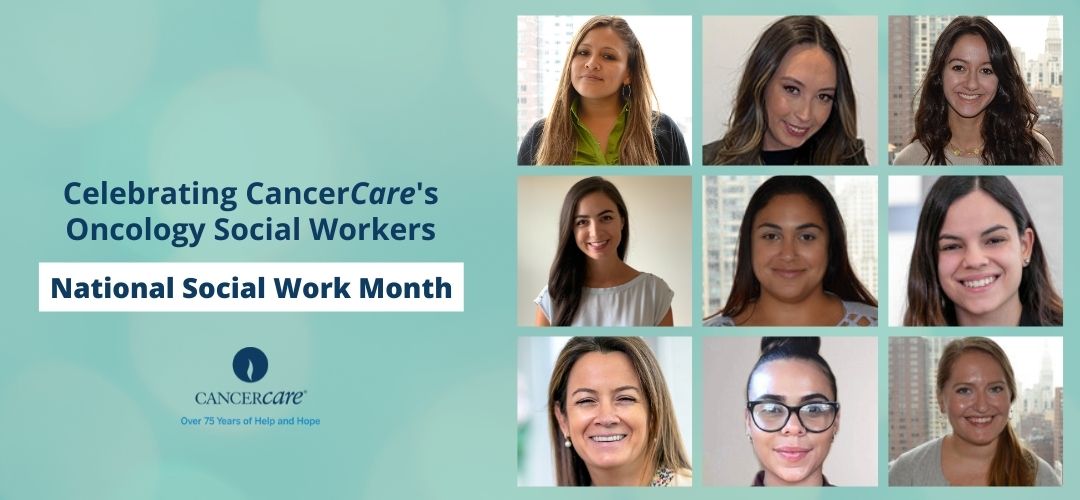 As we continue to celebrate National Social Work month this March, we spoke with a few of our oncology social workers who provide the direct support of CancerCare's services to anyone affected by a cancer diagnosis. Our social workers' jobs can be inspiring, tough and rewarding and it takes a special person to do what they do. They shared how they balance the challenges of their work, what they find most rewarding and what makes our organization so unique.
Cecilia
My interest in social work started at a very early age after seeing my mother struggle with health issues. Major health conditions affect not only patients, but their families as well, so I always wanted a career that would allow me to support those in need. As an oncology social worker, I feel honored to be there for patients, caregivers, their loved ones and the bereaved. As a bilingual social worker, I am able to overcome the language barrier that many encounter while trying to access support services and navigate the health care system during such a difficult time in their lives. What inspires me is the resiliency, willpower and courage of my clients to deal with life's challenges including a cancer diagnosis or loss. I believe for me being an oncology social worker has brought a different perspective on life in general. It has helped me to appreciate life on a deeper level, which drives me to take advantage of every moment, despite life's challenges. I now utilize self-care techniques; I exercise more often, practice mindfulness and just try different ways to better balance my work and personal life. I am always reassessing what is most helpful to me. Time and life are precious. We only have today, and often times there are others going through something worse. Appreciate being able to do the basics of living: breathing, eating, walking, seeing, etc. There are others out there who would give everything they have to do what we can do now. Take advantage of the abilities you have, and don't wait until they are gone to appreciate them.
Shannon
What I find most rewarding about my work is being the first point of contact for those impacted by cancer and providing them direct support. Helping my clients navigate the many challenges that exist in their cancer journey while seeing their resilience, strength, and compassion has been an honor. Although oncology social work can be emotionally challenging at times, through good support and clinical supervision I have been able see the positive differences I make with clients each day. Working at CancerCare has taught me to always remember to lead with kindness and lend an empathetic ear, as we never know what someone is experiencing privately.
Danielle
Something that has always stayed with me was when a client shared, "I have been calling so many other places, and have been diagnosed with cancer for two years….no one has listened and been as empathetic, kind, and resourceful as you." Hearing this reminds me how impactful the work we do is.
Not only do I feel supported by my colleagues but, as an organization, CancerCare supports those impacted by a cancer diagnosis in all aspects. CancerCare embodies the social work principle of "meeting the client where they are." On our Hopeline, every call is different but social workers are always engaged, assessing and looking for ways to best help the client's needs. Most importantly, CancerCare shows those impacted by a cancer that they are not alone and support is available.
Allison
I am continually inspired by the strength and resilience I see each day in clients who are affected by cancer. I try to create balance by focusing on both the challenges and achievements of the clients I work with. If a client is able to make it to a counseling session because they view it as part of their self-care, despite them feeling exhausted, I see that as an achievement. If a client is able to advocate for themselves by describing an issue they're having and asking for assistance, I also see that as an achievement. I believe this work has made me a stronger social worker, has improved my ability to advocate with and for clients, navigate challenging systems and provide concrete support services in the form of case management and individual and group counseling. There are innumerable client stories who have touched me during my time at CancerCare that will stay with me, as well as the gratitude our clients express to us for the support we provide.
Leeann
The most rewarding thing about my work is being a source of solace to the clients. I have learned that not everyone wants a solution, sometimes they just want someone to listen. What sets CancerCare apart from other organizations is that we focus on more than just the patient. We provide services for the patient, caregivers and the bereaved for free.
Alyson
My work with individual counseling clients is the most rewarding part of what I do each day. When a client says thank you to me simply for listening to them or when they say they remembered something I said during a time of anxiety and it helped them cope, I feel so humbled and honored to have joined by them for just a small piece of their journey. For clients to allow me into their lives and then to have them share the impact of our work is something extremely special.
Lucia
I think a cancer diagnosis is both a physical diagnosis but also an emotional one as well. And it affects not just the patient but also the support network of caregivers. Patients and caregivers are attempting to follow all medical instructions, experiencing scary and confusing emotions, and learning to navigate a world unknown to them before. I find my job to be to gently support the patient or caregiver as they learn to cope with their new reality in a way that helps them navigate this process with a little less fear and uncertainty. If I am able to provide that support for one person, I feel I am doing what I am meant to do.
We have good weeks and hard weeks. And our needs are always changing. I think I have learned perspective in my time at CancerCare. I have seen how quickly and unexpectedly life can change. I have also seen how meaningful it is for someone to be seen and understood. And of course, I have learned from clients that I am privileged to be able to stand by their side in their journey.
Sara
In today's world, there are so many challenges our clients face, including structural issues with the health care system and socioeconomic disparities. Working at CancerCare I've learned how important it is to provide a space where clients can safely release their frustrations. A lot of the time, what people really need is for someone to listen without judgement or expectations.
Charlotte
To be present with my clients as they grow, celebrate and acknowledge their own strengths is an incredible honor. People constantly have the ability to surprise you, in the very best of ways. They can feel a little more comfortable, take a slower breath, dig a little deeper and rest a little more when they're ready. And for every challenge, there is an opportunity for learning, compassion and connection that makes it worth it.
New Comment