We Challenge You! Join CancerCare and the Your Cancer Game Plan Challenge!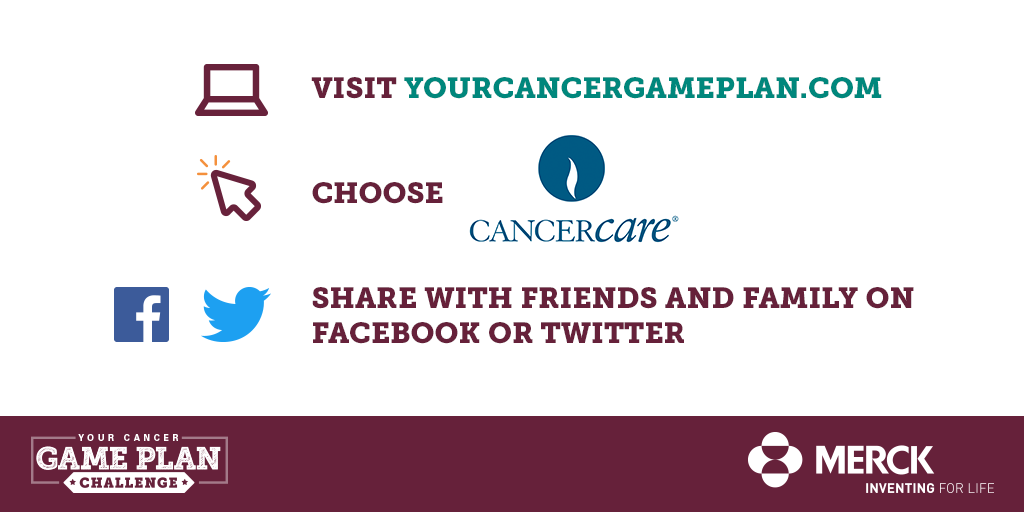 We're excited to announce that we've joined Merck on the Your Cancer Game Plan Challenge, a social sharing program that will help us raise funds and continue our support of cancer patients, caregivers, healthcare providers and others.
And we'd like to challenge you to join our team.
During the month of February, Merck will donate $5 to CancerCare for every social share of Your Cancer Game Plan, a resource to help cancer patients take an active role in developing a "game plan" focused on the emotional, health and communication challenges that go along with cancer.
To participate in the Challenge, please visit YourCancerGamePlan.com, click on the CancerCare logo and share the website with your friends and family through your social networks. While cancer is not something anyone plans for, it's important to have a game plan if diagnosed. And, CancerCare and Your Cancer Game Plan can offer that much needed support along the way.
Visit today, learn something new and start sharing! You'll be helping CancerCare and supporting those living with cancer.
New Comment