Sephora Hosts CancerCare Clients for Brave Beauty Class for Confidence in Honor of World Cancer Day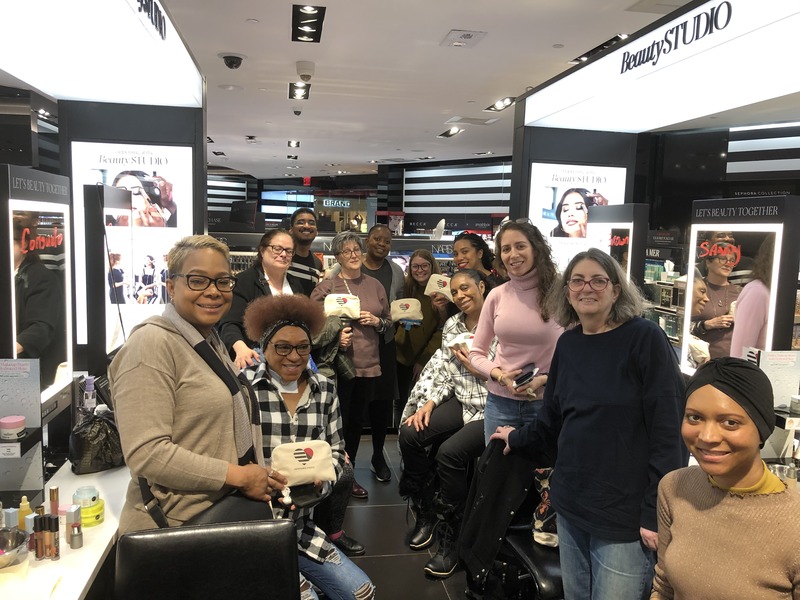 On Tuesday, February 4, the Sephora store located in Columbus Circle hosted Cancer
Care
clients for a hands-on
Brave Beauty in the Face of Cancer Class for Confidence
in honor of World Cancer Day.
These free classes help people living with cancer discover techniques and products that address the visible effects of cancer treatments from specially-trained makeup artists. Ten CancerCare clients participated in the free workshop to learn about skincare and makeup application, along with clean products to use during and post-treatment.
"Our first Brave Beauty Class at Sephora Columbus Circle was such a success; it was a wonderful event where our clients were able to learn tips to tackle cancer treatment-related concerns. These classes continue to offer the space for our clients to engage with one another in a fun environment," said Lauren Chatalian, LMSW, CancerCare's Women's Cancers Program Coordinator. "These classes become deeper than skin care and make up application: the bonding between our clients is our main reason to continue to offer these classes as part of our comprehensive services."
Learn more about Sephora's Brave Beauty in the Face of Cancer Class for Confidence or click here to find class or service at a store near you. You can also watch Sephora's Brave Beauty YouTube tutorials here.
New Comment