National Social Work Month: "All People Matter"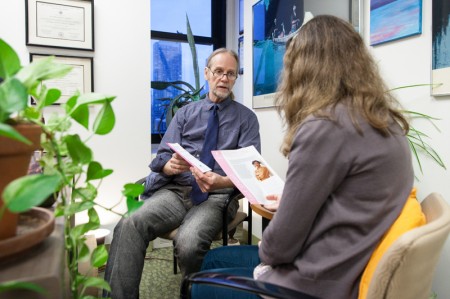 Richard Dickens, LCSW-R meets with a client
Happy National Professional Social Work Month! We're proud of our extraordinary team of professional oncology social workers who continue to help anyone affected by cancer, regardless of cancer type or stage, completely free of charge.
The official theme for Social Work Month in March 2014 is "All People Matter." Celebrated each March, National Professional Social Work Month is an opportunity for social workers across the country to turn the spotlight on the profession and highlight the important contributions they make to society.
Each day, our professional oncology social workers strive to provide in-person and telephone counseling to help people manage stress and anxiety. They also lead support groups to help people connect with others and help clients find reliable cancer information and financial resources.
Richard Dickens, LCSW-R is a non-Hodgkin lymphoma cancer survivor and has been a CancerCare social worker for over 15 years. "In my work as a social worker, I witness time and again the resiliency of the human spirit. My passion is to help people normalize their experience, try to see their world through their eyes and provide them with hope."
To speak to one of our professional oncology social workers, call 800-813-HOPE (4673).
New Comment