Monthly Staff Feature: New Jersey Office's Wigs Clinic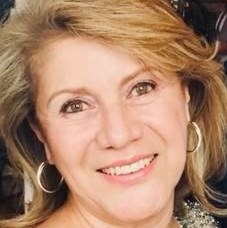 CancerCare's monthly staff feature recognizes the vital contributions of the many client-facing and behind-the-scenes teams that make our free programs and services possible.
This month, we're happy to highlight CancerCare's Wig Clinics for our New Jersey office and Mildre G., who works as a Latino Outreach Worker, assisting clients in accessing free wigs through in person and virtual clinics and provides breast health education workshops in Connecticut.
Name: Mildre G.
Title: Latino Outreach Worker
Team: New Jersey Office
Time with CancerCare: Nine years
What do you do at CancerCare?
I am Latino Outreach Worker in Connecticut. I provide breast health education workshops to Hispanic and Black or African American individuals in Fairfield and New Haven counties. I also provide virtual and face-to-face wig clinics. CancerCarehas partnered with different cancer centers in the area to host wig clinics once a month at each center. I also help to promote CancerCare's free services in Connecticut by participating in health fairs and meetings at local hospitals.
What is your favorite thing about your job?
Providing breast health education workshops, because it allows me to reach hundreds of underserved people every year to teach them the importance of early detection of breast cancer, how important is to have a primary doctor and encourage them to get screenings.
What sets CancerCare apart from other organization?
The human and personal quality of staff that clients can see and feel when they receive CancerCare's free services.
What is your connection to cancer?
I am a cancer survivor and I think this helps me to connect with each client. It helps me to understand their concerns, fears and feelings.
Could you share an important memory you have of working at CancerCare?
In 2015, I had a client who attended a breast health education workshop at a church. At the end of the workshop, she approached me with questions. She was undocumented and did not have health insurance. She told me that she had a lump in her breast for about a year. She had asked her family in her country to send some pain medicine, but because she was undocumented, she thought she was not eligible to receive any medical assistance. She was afraid to go to the hospital, fearing that she would be deported. I referred her to a free clinic, where she received some assistance for herself and her family.
After each of my education workshops, I follow up with attendees over 40 years old to see if they have obtained their first mammogram. If they have not, I help them by referring them to different centers where they can get a mammogram.
That's what I did with this client. I followed up with her until she found a primary doctor and was screened. She was diagnosed with breast cancer, had surgery and went through chemotherapy. After many months I came back to that church and learned that she was feeling better. Clients like her continue to inspire me to help and support.
How has working at CancerCare affected or changed you?
Working at CancerCare and doing this kind of work has given me the opportunity to spread the word in the community that early stages of cancer can have a high survival rate and that CancerCare is here to help, guide and support individuals in their healing process.
I believe helping others is one of the secrets to happiness and that has changed my life. I am very grateful to CancerCare because I have the opportunity to feel happy every day that I help people who are going through cancer.
New Comment