Merck Staff Lends a Hand for Healing Hearts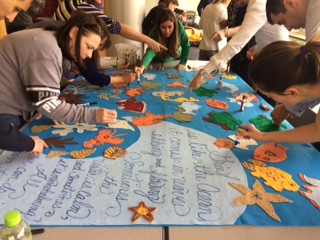 On April 24, Merck held a volunteer day in its New Jersey office to support CancerCare's Healing Hearts Family Bereavement Camp, a retreat for families who have lost a loved one to cancer. The event was attended by over 40 Merck employees and led by CancerCare Director of Regional Programs, Kathy Nugent, LCSW.
Kathy kicked off the volunteer day by explaining the purpose of the camp, as well as the fun and therapeutic activities that take place over the course of the weekend. Afterwards, she showed volunteers a video featuring the song "Fly Butterfly Fly", which was written and performed by campers during a previous retreat. Kathy said, "The staff was truly touched by the video and what we do for our grieving families."
As part of the volunteer day, Merck staff created a banner that is an integral part of the camp. The banner includes a quote from Vicki Harrison, which reads, "Grief is like the ocean, it comes in waves, ebbing and flowing. Sometimes the water is calm. And sometimes it is overwhelming. All we can do is learn to swim." The staff decorated the banner with various sea creatures and plants to tie into this year's Ocean theme.
The staff also decorated tote bags to be given out at the camp, which were filled with sun screen, insect repellent, flashlights, tissues, hand cream and journals.
Kathy shared, "It was so nice to see this wonderful group of giving employees having fun and also recognizing the impact and importance of what they were doing to support CancerCare and our bereaved clients."
New Comment