Melissa Honors Her Husband With #CaregiverCandids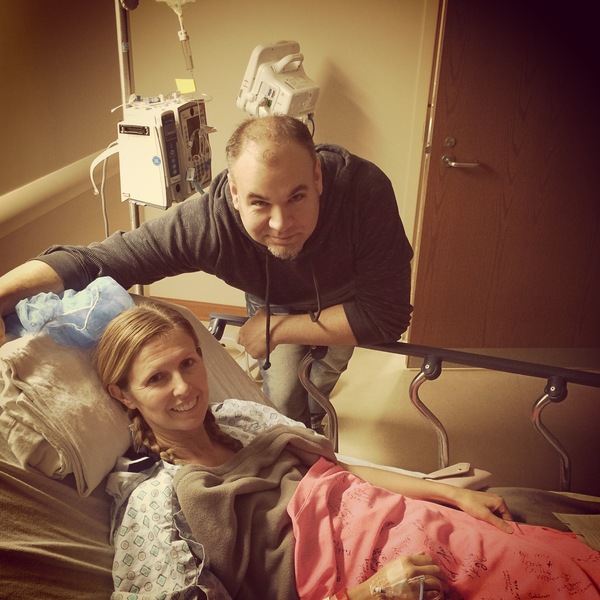 Melissa and her husband Bud preparing for her eleventh surgery
During our recent #CaregiverCandids contest, CancerCare asked people affected by cancer across the country to share photos honoring the caregiver in their lives. Our grand prize contest winner, Melissa, submitted an inspiring photo of her and her caregiver, husband Bud.
After finding a lump at age 31, Melissa was diagnosed with genetic breast cancer in March 2007. She soon underwent a bilateral mastectomy, 30 rounds of radiation and multiple reconstructive surgeries.
"I met my husband in 2009. I was two years out from the diagnosis and never thought that I would find anyone. He came into my life in the middle of everything," shares Melissa of Pittsburgh, PA. "I was young and single and just thought, 'Who is going to step into this hot mess?' He treated me like Melissa, not like Melissa the girl who has cancer."
In the darkest of days after the diagnosis, Melissa found great comfort in having someone to lean on. "I knew that he couldn't take it away, but I needed someone to be stronger than me in order to carry me through. He taught me that I'm still beautiful and worthy of being loved."
"I've learned so much. Cancer has taken a lot of things away from me, but I have gained so much more than what I've lost," says Melissa. "As crazy as it may sound, I never wish that I didn't have cancer. I wouldn't have met my husband. I never would have done the things that I've done or learned the things that I've learned."
Take a moment to view the entire #CaregiverCandid gallery.
Caregivers provide important and constant emotional and physical care for a person with cancer. People in this role often put their own needs or feelings aside while focusing on their loved one, but taking good care of oneself is vital. CancerCare provides free, professional
support services for caregivers and loved ones, as well as information and additional resources.
Comments
www.beautythroughthebeast.com said on Tuesday, October 27 2015
Lucky,you all are! My boyfriend was not supportive, and kicked me out of his house after I was done with my mastectomy. Read the article I wrote on my blog about cancer break-ups. It's not widely discussed but it does happen!! http://www.beautythroughthebeast.com/new-blog-avenue/2015/9/10/50
Reply
New Comment