Help Us Learn More About Preventing Infections During Chemotherapy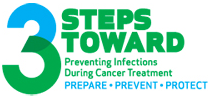 Thank you for your support!
CancerCare, the CDC Foundation, and Amgen are working together on a survey to better understand cancer patients' and caregivers' knowledge of one of chemotherapy's side effects that may increase their risk of getting an infection.
Fifteen minutes of your time will help us learn more. The survey results will help us better understand how to prevent infections during cancer treatment. The results will also help the CDC Foundation improve its website that was developed to better educate people with cancer about how to help reduce the risk of infection during treatment. No information that could identify you will be collected or stored.
As a small token of our appreciation for your help in this effort, we will mail you a tote bag filled with several items to help you or a loved one stay healthy this winter and/or during chemotherapy treatment. This tote bag includes a thermometer, bar of soap, bottle of hand sanitizer and a refrigerator magnet. This offer is available while supplies last.
We invite patients and caregivers to take our 14-question survey. We are looking for:
People living with cancer or cancer survivors who are currently being treated for cancer with chemotherapy or who have received chemotherapy in the past 5 years AND have never had and are not scheduled to have a bone marrow transplant (BMT) or stem cell transplant (SCT
Caregivers and loved ones of people who meet the above criteria.
If you meet the above criteria, we would greatly appreciate your participation. Please click here to start the survey. We thank you in advance for your help!
New Comment