CancerCare® National Gala Moves Online for 2020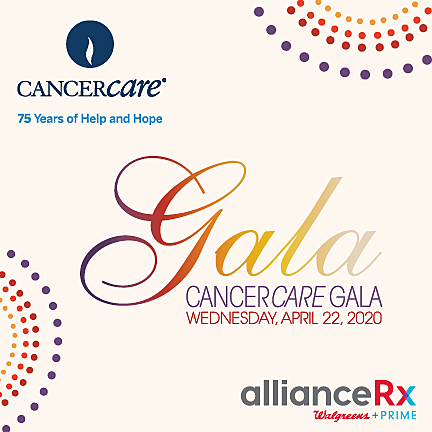 Last month, CancerCare made the difficult decision to cancel our national gala to ensure the safety of our supporters, our staff and the public at large. We hosted an online auction and donation opportunity in its place to fund the free, professional support services that are now more necessary than ever.
In the current climate, "normal" is a relative term. Just as people affected by cancer must adjust to a new normal after they or a loved one are diagnosed, we too have been adapting to the changes that have impacted our daily lives. The gala was no exception. The planned event, which was to include a performance by noted Broadway performer and actress Laura Benanti, was re-imagined as an online auction at the eleventh hour. Our Events team showcased their flexibility and ingenuity as they condensed months of planning and preparation into only a few weeks. Thanks to their hard work, coupled with the enthusiasm of our supporters, we exceeded our net fundraising goals, allowing us to remain a source of help and hope to anyone affected by cancer.
"We are so grateful to our sponsors and partners who honored their gala commitments despite the cancellation of our in-person event," shares Patricia J. Goldsmith, CancerCare CEO. "There has been a remarkable increase in demand for our services, and the success of the gala auction enables us to continue supporting our clients both through existing programs and through new resources being developed in direct response to the pandemic."
CancerCare would also like to thank the 2020 Gala Co-Chairs, Renata Figueiredo, Flavio Figueiredo and Annette Pizzo, as well as the Gala Committee: Catherine Abbate, Michael Baraldi, Paul M. Friedman, Anthony Giglio, Beth Greenberg, Christine Converse Hogan, Kay Hsu, Rachel Klein, Paula Lascano, Donna Lowery, Loretta & Raymond Moseman, Marsha J. Palanci, Lori and Michael Parisi, Chandni Patel, Andrew C. Pizzo, Eleanor Sigona, Susan Smirnoff & Kirk Zachary and Burt Zweigenhaft. Thank you for making our 2020 Gala a success!
You can still make a Bid for Hope donation until June 30, 2020.
New Comment