Drink Up! 10 Percent of Caribou Coffee Purchases Benefit CancerCare!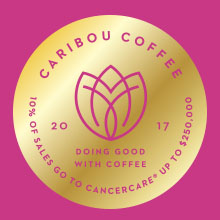 Today, September 29, is National Coffee Day! To celebrate, our friends at Caribou Coffee are kicking off a month of giving back. In honor of their original Roastmaster, Amy Erickson, Caribou will donate a portion of sales to CancerCare, up to $250,000.
Every October, Caribou Coffee pays tribute to their original Roastmaster, Amy Erickson, with Amy's Blend coffee and merchandise. Amy passed away from breast cancer in 1995, and in her memory, Caribou donates a portion of sales to cancer causes. For the sixth consecutive year, Caribou has chosen to donate to CancerCare.
Now through October 31, 10 percent of your Amy's Blend purchases, along with any bean purchase, will directly support CancerCare's free services for people with cancer and their loved ones.
Find a Caribou coffeehouse near you, and be sure to check out Amy's Blend coffee, mugs and more!
New Comment