CancerCare staff attends White House Meeting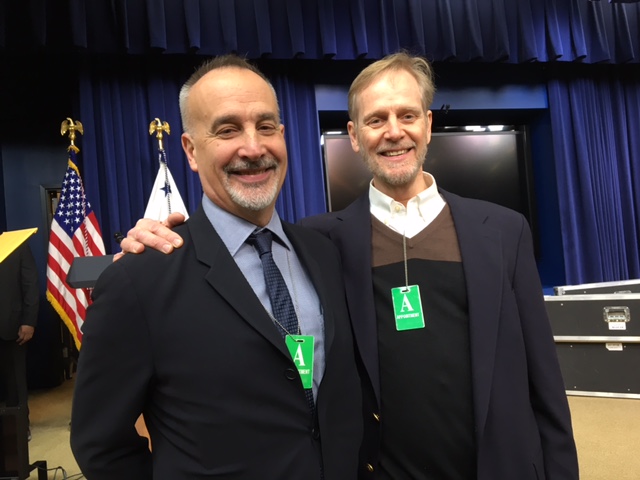 Four members of CancerCare were invited to participate in a morning of roundtable discussions at the White House on January 11. The four-hour meeting was part of the "Making HealthCare Better" series, and in collaboration with the Cancer Moonshot initiative, was focused on addressing the challenges in community oncology. There were about 75 attendees and the morning was taped and live streamed.
There were three panel presentations, each followed by Q & A. Panelists included oncology providers, a patient and one representative each from the Centers for Medicare and Medicaid (CMS) and the National Cancer Institute (NCI).
The first panel, "Addressing Disparities in Access," highlighted the challenges among rural populations in accessing cancer prevention, diagnosis and treatment services. Panel members stressed the importance of working with community institutions to develop relationships of trust and commitment. In the following armchair discussion, Otis Brawley, MD, of the American Cancer Society, noted that in urban areas, cancer care differs by subway stop and that disparities are based largely on socioeconomic, education, and psychosocial factors.
In the key note speech, Don Graves, Counsel to Vice President Biden, discussed some of the Moonshot and health care advances made in the last eight years. Importantly, he said that investment in cures must be equal to investment in care. He also noted that failure to address distress can interfere with treatment compliance, immune response and patients' quality of life. Certainly, this is apparent to CancerCare staff, every day. 91 percent of Americans now have some kind of health insurance, which means they are more likely to be diagnosed early. It's critical that this progress not be dismantled by changes in healthcare policy.
The third panel addressed support and survivorship. Through alternative payment models and the new accreditation standards of the American College of Surgeons, psychosocial screening, navigation and support are more widely available now. However, the panel members acknowledged the challenges around delivering these services, and tracking/sharing them through electronic medical records are vast. Policies and procedures notwithstanding, most patients still don't get the support they need, especially regarding the financial distress that accompanies a cancer diagnosis. Telehealth is great technology for delivering these services to patients who live far from their treatment providers, although state licensing and billing are often barriers to implementation.
In the final panel, discussion focused on "Advancing Clinical Trials, New Technologies and Innovative Models of Care delivery in the Community Setting." The best cancer treatment is delivered through participating in trials, so improving accrual will also improve the quality of care patients receive. Various models are being used to encourage and support trial participation, including patient navigation and education. The CMS Oncology Cancer Model pays a 20 percent premium to providers when they provide care through a trial. The VA has embraced Project Echo, where academic medical center specialists use various technology tools to manage rural cases in collaboration with local providers. The challenge here is how to compensate the advising physician, who is not actually treating the patient. Clinicaltrials.gov is evolving to be more user-friendly, as well.
In wrapping up, Danielle Carnivale, Chief of Staff for the White House Cancer Moonshot Task Force, assured us that the progress and energy toward accelerated advances will continue despite Joe Biden's departure. He will be setting up a non-profit organization to sustain the mission and it's also reassuring to know that passage of the 21st Century Cures Act protects the $1.8 billion funding allocation for NCI research projects.
Notwithstanding the positive momentum of the Moonshot initiative, the uncertainty surrounding insurance access hung like a black cloud over the room. With 91 percent of Americans now being insured, cancer screening rates have significantly improved and cancer is being diagnosed earlier than ever. It's critical this progress not be dismantled by ill-conceived new policies that deny affordable coverage to those who most need the protection of accessible health care.
--Ellen Miller Sonet
Chief Strategy and Alliance Officer, CancerCare
New Comment