CancerCare Receives $600,000 to Continue Support of Low-Income Breast Cancer Patients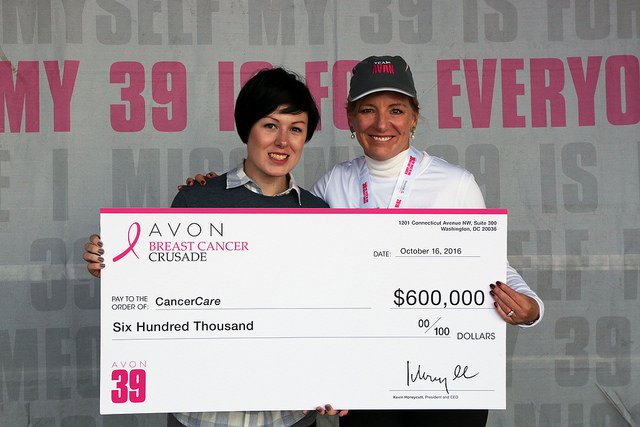 CancerCare wishes to express our immense gratitude to the Avon Foundation for Women for awarding our organization a generous $600,000 grant to support the AvonCares program, a partnership between CancerCare and the Avon Foundation for Women. Since 2001, AvonCares has provided over $21 million in direct financial assistance to low-income breast cancer patients in 50 states.
The grant was presented at AVON 39 The Walk to End Breast Cancer, which concluded on Sunday, October 16 in New York. Participants walked 39.3 miles and raised $7.6 million to accelerate breast cancer research, improve access to screening, diagnosis and treatment, and educate people about breast cancer.
At the event, Jill Surdyka, AVON 39 National Ambassador, announced eight new grants to local breast cancer organizations, including CancerCare, ensuring the funds raised immediately benefit the local community.
"This weekend, 3,100 AVON 39ers united in New York with one common goal: to end breast cancer," said Ms. Surdyka. "The grants given today will help us do just that – and will help us to further our goal in providing services to those in need, educating the public, and crushing breast cancer once and for all."
Thanks to the efforts of all who participated in AVON 39 and the generosity of the Avon Foundation for Women, CancerCare will be able to further our mission of providing help and hope to anyone affected by cancer. Through our counseling programs, financial assistance grants, educational resources and community programs, CancerCare is committed to helping people manage the emotional, practical and financial challenges of cancer.
For more information on eligibility for AvonCares, please call our Hopeline at 800-813-HOPE (4673) or visit our financial assistance page.
New Comment