CancerCare Celebrates 70 Years and Raises Over One Million Dollars at Anniversary Gala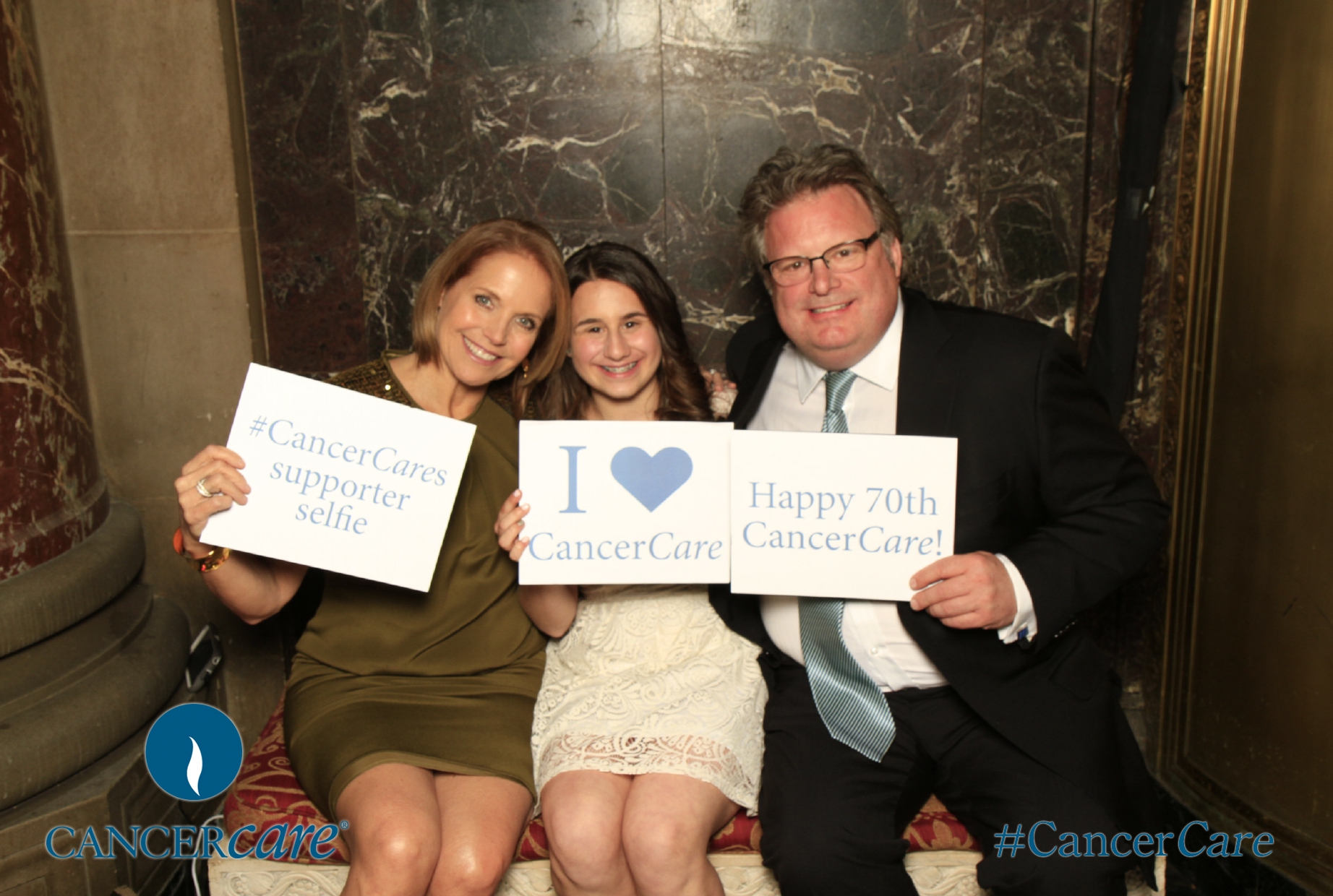 Journalist and Advocate Katie Couric; Junior Philanthropist Maddy Gold; and Chef David Burke
Thanks to our dedicated supporters and advocates, CancerCare raised more than one million dollars for anyone affected by cancer at the 70th Anniversary Celebration Gala. Over 500 attendees gathered at Cipriani in New York City on April 23 to honor the organization as it moves into its eighth decade of service.
"With 13.7 million cancer survivors in the U.S. today, a number that is expected to increase to 18 million over the next decade, CancerCare's services are more relevant than ever before," said CancerCare National Board of Trustees President Susan Smirnoff. "The Gala allows us to honor individuals and corporations that have made incredible contributions in supporting CancerCare over the past 70 years and to raise essential funds to further carry the mission."
Television journalist, author and dedicated cancer advocate Katie Couric kicked off the evening by sharing how she and her family were personally affected by cancer and found comfort in using CancerCare's services.
Chef and restaurateur David Burke took the stage for the live auction portion of the event. Grammy Award-winning contemporary opera singer Jessye Norman and Former Mayor of New York City David Norman Dinkins were also in attendance.
Ms. Couric proudly presented the Partnership Award to Philip Blake, Senior Bayer Representative USA and Bayer HealthCare Representative US. Under the leadership of Blake, Bayer HealthCare holds a long-standing commitment to CancerCare's mission of bringing outstanding educational services to help people whose lives have been affected by cancer.
The Help & Hope Award was presented to Pamela S. Wygod and the WebMD Health Foundation. Ms. Wygod has been a devoted member of CancerCare's Board of Trustees since 2006 and the Foundation has awarded the organization more than $2.5 million to support cancer patients in the San Diego area.
One of the organization's youngest and most powerful advocates, Maddy Gold, 13, courageously shared her story and was surprised with the Junior Philanthropist Award.
The event was hosted by Annetteand Andrew Pizzo, President of Collection XIIX, Ltd.
The CancerCare 70th Anniversary Celebration Gala raises crucial funds for and increases awareness of the organization's free, professional support services. To see photos from the event, visit http://ow.ly/wf1xb.
Stay up to date on all of the social media action by liking us on Facebook and following us on Twitter.
New Comment