Angelique Caba Receives NASW Mid-Career Leader Award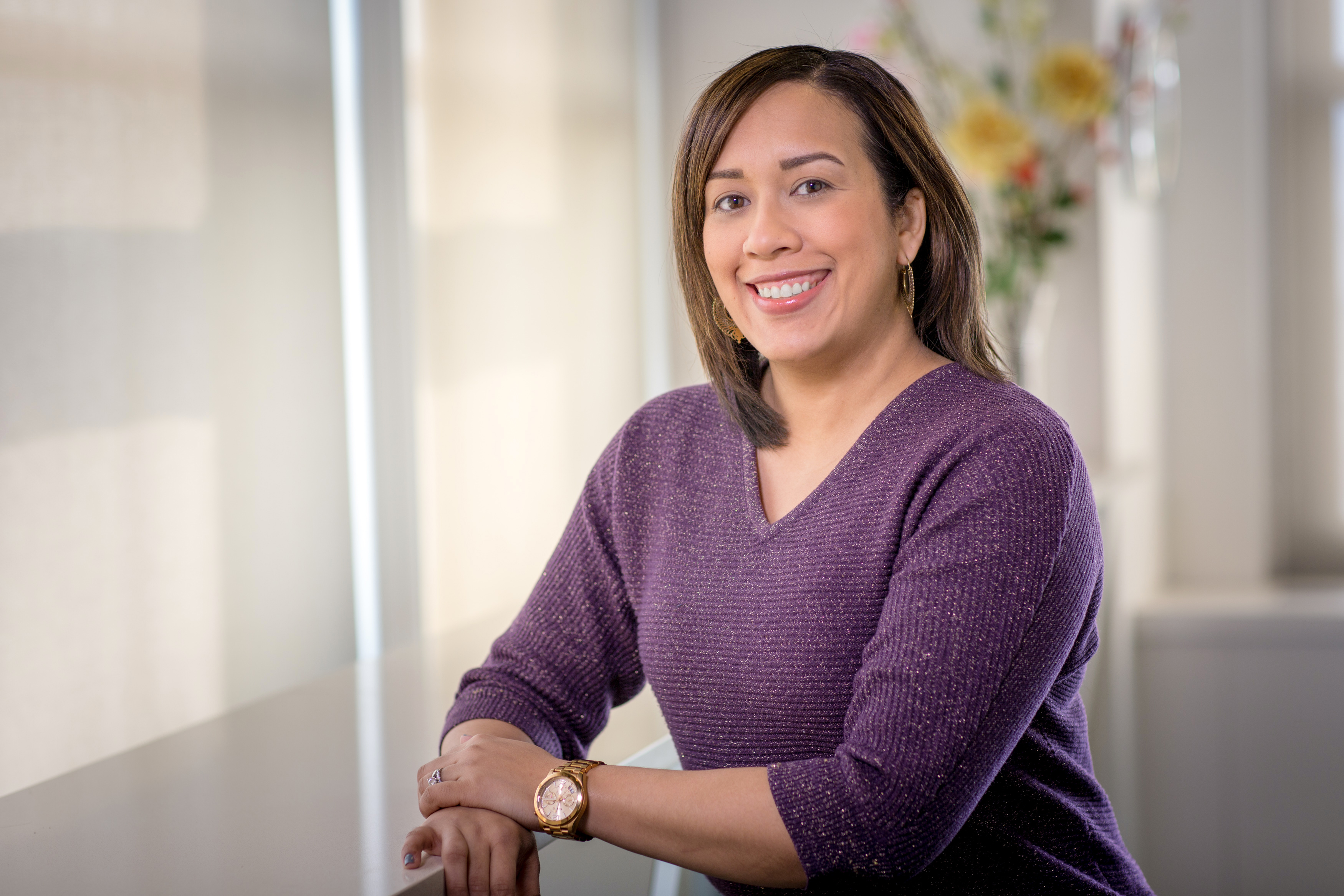 We're happy to share that CancerCare's Director of Social Work Administration, Angelique Caba, LCSW-R was recently awarded the Mid-Career Leader Award by the National Association of Social Workers (NASW), New York City Chapter. Congratulations, Angelique! In today's blog post, she discusses her experience in social work and what led her to CancerCare.
What started you on your career path in social work?
I think the main reason I ended up in a helping profession was in large part due to my dad. He's not a social worker or a therapist but I remember him telling me from a very young age how important it was to always have someone to talk to, whether it was family, friends, or a professional. Originally, I thought I was going to pursue a career in psychology, but in college I took an introductory social work class and I knew right away this was definitely what I wanted to do. Social work just felt more organic to me - a much more in-depth, hands-on approach. I liked that there were so many different clinical approaches or interventions you could take in supporting your clients, whether that involved the social worker being more of a listening ear or taking on a more directive and interactive approach, where the client and social worker work together to find a way to cope.
Were you initially interested in oncology social work, or was that something that came later?
I didn't initially start out my social work career thinking I would be interested in oncology social work. In fact, I started out working in kinship foster care but knew soon after this was not what I wanted to do long-term. I then began working at a special education school for children diagnosed with emotional and behavioral disorders. I absolutely loved the clinical work, loved working with children, and loved that no day ever looked the same. Every single child was very different, and I loved the challenge that posed.
Then, in 2005 my then-boyfriend, now-husband was diagnosed with cancer. As with any cancer diagnosis this was completely unexpected and shifted things for me not only as a person but as a clinician. It was at this point that I really knew I wanted work in oncology helping to support those affected by cancer.
What are some of the programs that you've created or managed at CancerCare?
Prior to my current role, I was CancerCare's Child and AYA (Adolescent and Young Adult) Program Director. When I first began working as part of CancerCare for Kids the program was very small and only consisted of about two social workers. Since then, the number of social workers dedicated to working with children has more than doubled. As a team we have worked together to build up this program to where we are now. We host a number of larger scale seasonal events, our individual counseling program has grown, and the number of families that we work with is significantly larger.
In addition to our child and young adult programs, I also oversee our Spanish language services and translations. We're definitely looking to expand our Spanish language programs, including our publications. I'm currently working with one of our bilingual oncology social workers, on recruiting for a Spanish language telephone support group. This would really help us in reaching more of our national clients where support services aren't readily available. We are also hoping to grow the number of bilingual oncology social workers and then maybe down the line we'll be able to do an online support group in Spanish to stretch our reach even further.
Why is it important to offer services for children and for Spanish-speakers affected by cancer?
I think it's extremely important to offer emotional support services specifically tailored for children coping with cancer because developmentally they are in a very different place than adults and don't always have the verbal skills to appropriately express what they are feeling. Being able to have a place where they can play it out or just express themselves in other ways is huge, especially for their parents who often struggle with how best to support them
Our children's program, CancerCare for Kids provides support to children and families affected by cancer, including those who are bereaved. It can be especially difficult for parents coping with a cancer diagnosis to take their own self-care into consideration while also caring for the needs of their children. So a lot of the work that we do with parents focuses on how they can support and communicate with their kids in a way that helps them feel as though they are part of the process.
For Spanish-speakers affected by cancer, there are often added layers of complexity. For example, for those of us whose first language is English medical terms are often confusing or difficult to understand. Now imagine what that must be like for someone whose first language is not English. Even with an interpreter some of these terms are still difficult to understand. The other thing to consider is the person's culture and how their cultural norms play a role in how they communicate with their medical team and how or even if they make their needs known.
At CancerCare, a huge part of our work with Spanish-speaking clients involves encouraging them to advocate for themselves. We often tell them that they can question the doctor and in fact we encourage them to do so. We also make it clear that it is well within their right to say no to the doctor or even push for a second opinion. We continually encourage them to bring a loved one to their appointments for emotional support rather than having them interpret. Because of the complex medical jargon it is especially important that this be done by professional medical interpreters, which they can request during or even before their appointment.
What are some of the most rewarding aspects of your job?
I think that in oncology social work, some of the most rewarding moments aren't always the happiest . When looking back, I am reminded of a Hispanic family I worked with several years ago – a single mom of three who was diagnosed with terminal cancer. Each member of the family had their own social worker and I was working with one of the teens. The mom couldn't bear to tell her children that she was dying. I mean imagine, how does anyone say that to their children? Mom's social worker worked individually with her, not only to empower her to have this conversation but also taught her what language to use. We ended up having a family session and it was probably one of the most emotional sessions I've ever had. We were all there: mom, her three children and us as their social workers working as a team to help support them. I feel like that was rewarding because I don't know if that conversation would've happened if they weren't at CancerCare. I would say that, for me, is one of the most rewarding things of the job, being able to support parents in having these forms of open communication. Because as difficult and painful as it is, it really is important for the family.
What do you like to do outside of CancerCare?
Most of my time outside of here is spent with my two, soon to be three, kids and my husband. They're my everything so I could easily spend all my time with them and be happy. Other than that, I'm obsessed with reading. I don't leave my house without my Kindle and I pretty much read every day.
Do you have any hobbies, skills or interests that your colleagues might be surprised to learn about?
Some people may not know, but I have been training in martial arts since I was 11 years old and I have a second degree black belt. My husband and I would normally train and take class together but we haven't trained since having our kids so unfortunately it's kind of been on hiatus. Something else people may not know is that I started playing violin when I was six and played with the New York Youth Symphony Orchestra at Carnegie and Avery Fisher Halls. Once I started graduate school though I quickly realized that continuing would require more time than there actually was in the day so I made the decision to stop playing professionally.
New Comment