2015 CancerCare Gala Raises Over $900,000 for Anyone Affected by Cancer
Legendary Reporter Sam Donaldson, CancerCare CEO Patricia J. Goldsmith and President of CancerCare's Board of Trustees Michael Parisi at the 2015 CancerCare Gala
Over 400 guests gathered at Cipriani 42nd Street in New York City on April 22 in support of CancerCare. The 2015 gala raised over $900,000 and featured an address by legendary reporter Sam Donaldson, who served as the event's Honorary Co-Chair. Mr. Donaldson shared his personal story of facing a melanoma diagnosis and affirmed his commitment to CancerCare's work on behalf of cancer patients and their families.
CancerCare's gala recognizes individuals and companies that support the organization's critical services. The 2015 Partnership Award was presented to Astellas US, LLC and Medivation, Inc. and the 2015 Help and Hope Award to Burt Zweinghaft, Vice Chairman and Chief Strategy Officer of Onco360. Dr. Jeffrey Bloss, Senior Vice President of Astellas Scientific and Medical Affairs, accepted the award on behalf of Astellas US, LLC and Dr. David Hung accepted the award on behalf of Medivation, Inc.
"CancerCare gives hope in so many ways and that's so important; I can tell you from experience. I'm a member of the cancer club – melanoma division," said Mr. Donaldson in his address to the audience. He emphasized his support of CancerCare's programs and services which have helped 170,000 people affected by cancer and provided more than $22.3 million in financial assistance to more than 26,000 people to help with treatment-related costs such as transportation, homecare, childcare and co-payment assistance.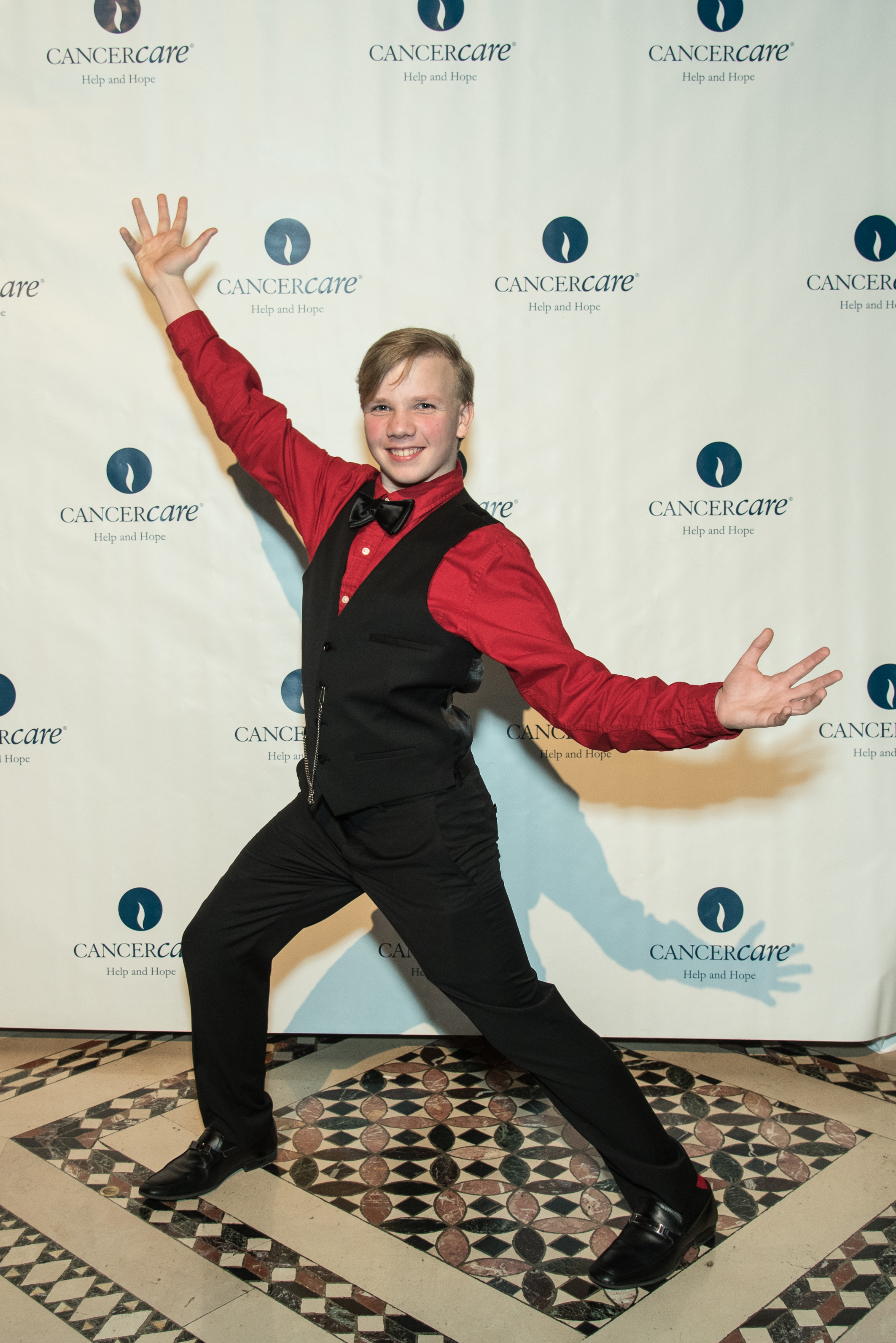 CancerCare client Myron Theilmeier shared his story at the 2015 CancerCare Gala
One of the evening's most powerful moments was when 15-year-old CancerCare client Myron Theilmeier, who lost his father to colon cancer in 2013 and has used a number of the organization's services to help him cope with this devastating loss, shared his story in front of hundreds of guests. Myron and his family attended the Healing Hearts Bereavement Camp, a free weekend retreat in the Pocono Mountains where families can meet other families in their situation, have fun together and help each other heal. He and his family have also participated in the CancerCare Walk/Run for Hope, raising funds for CancerCare's support services in memory of Myron's father. "CancerCare is a nice, kind community filled with friends who are there to help you," shared Theilmeier. "It is a friendly environment and everyone there treats us like family."
CancerCare CEO Patricia J. Goldsmith announced a generous $100,000 gift made by longtime CancerCare Board of Trustees member Dorothy Schachne, in memory of her husband, David. Sotheby's auctioneer, C. Hugh Hildesley took to the stage to raise additional support for CancerCare's program through an exciting paddle raise and live auction which featured tickets to the Super Bowl, a "Legendary Women in Wine Dream Cellar" package and a luxury trip to Italy.
Past gala honorees include Bayer HealthCare, Pamela Wygod and the WebMD Health Foundation, "Law & Order" star S. Epatha Merkenson, "Sex and the City" and "The Big C" Executive Producer Jenny Bicks, and renowned law firm Weil, Gotshal & Manges.
New Comment