Donate Now
Founded in 1944, CancerCare® is the leading national organization providing free, professional support services and information to help people manage the emotional, practical and financial challenges of cancer. Our comprehensive services include counseling and support groups over the phone, online and in-person, educational workshops, publications and financial and co-payment assistance. All CancerCare services are provided by oncology social workers and world-leading cancer experts.
CancerCare programs and services help 180,000 people each year. We distribute 540,000 publications and welcome 2.3 million website visits annually. In the past year, CancerCare provided more than $14.2 million in financial assistance. The size and scope of CancerCare has grown tremendously since 1944, but it has never wavered from its mission of providing help and hope to people affected by cancer.
To learn more, visit www.cancercare.org or call 800-813-HOPE (4673).
CancerCare's Connecticut office was opened in 1988 to ensure that Connecticut residents have full access to all CancerCare services.
Our Mission
CancerCare® is the leading national organization dedicated to providing free, professional support services including counseling, support groups, educational workshops, publications and financial assistance to anyone affected by cancer. All CancerCare services are provided by oncology social workers and world-leading cancer experts.
Connect With Us
Face-to-Face Support Groups in Connecticut
For Patients
Come and share your cancer journey with other women or men and participate in activities that promote positive measures of coping. For cancer survivors, individuals currently in treatment, caregivers or bereaved individuals.

Music Therapy, Art Therapy, Meditation, and other creative coping strategies will be explored.

This group takes place in Mondays from 5:30-7:00 p.m.

Venga a compartir su experiencia y participe de Actividades que inspiran y ayudan a lidiar con los efectos emocionales de sobrevivir un cancer, estar en tratamiento, tener un ser querido con cancer, o haber perdido un ser querido a el cancer.

Musica, Arte, Massaje, Meditacion, y otros metodos de terapias positivas seran exploradas.

Seiz Sessiones, Los Lunes, Octubre 17, 2016 – Noviembre 28, 2016

For more information, contact Marivel Barnard, LMSW at 203-663-2193 or mbarnard@cancercare.org.

Recent studies have indicated that coloring mandalas or other patterns can reduce anxiety and induce a beneficial meditative state. Join us as we color beautiful mandalas and intricate designs over the course of eight weeks. Your finished projects can be framed or transformed into meaningful keepsakes.

This is a quiet, activity-based support group that is open to anyone who is in treatment for cancer or completed treatment within the past two years. There will be discussion of one mindfulness technique, and the remainder of the time will include calming music to promote quiet conversation and reflection as we work with pencils and markers to complete unique creative works.

This group takes place on Tuesdays from 1:00-2:30 p.m. beginning February 7.

For more information or to register, please contact Susan Beno, LCSW at 203-663-2196 or sbeno@cancercare.org
Free Wigs
CancerCare's Norwalk, CT office offers free wig fittings by appointment. If you'd like to schedule an appointment, please call 203‑854‑9911. If you do not live near our Norwalk, CT office, we can help you locate wig resources throughout the state.
Comfort Pillow Take Home Kit
CancerCare's Comfort Pillow Take Home Kit is for children who have cancer or have a family member with cancer and is designed to help parents facilitate discussions about cancer in the family. Each family is provided with educational materials on talking to children about cancer as well as materials for each child to make their very own "comfort pillow" decorated with all the things that comfort them.
**All Connecticut families affected by cancer are eligible to receive a free kit sent directly to their home.** If you know of a family in Connecticut that may be interested in receiving a comfort pillow kit, please have them contact CancerCare at 203‑854‑9911 or email Susan Beno, LCSW at sbeno@cancercare.org.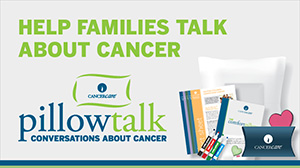 If you live outside Connecticut or are a health care professional and would like to order a Pillow Talk Care Package, please use our online order form.
Board of Managers
David Pearlstone, MD


President

Charles Collier


Vice President

John DeMelis


Vice President

Diane Pincus


Vice President

Clifford Stober


Treasurer

Cris Alvacedo
Kathy DiGiovanna
Richard H. Raphael
Jan Schaefer
Beth Thompson
Sandra Tripodi, MSW, LCSW
Josh Witkin
Richard Zelkowitz, MD
Presidents Emeritus
Charles Ellis
Michael Fishoff
Brendan M. Kerrigan