Home
Home
CancerCare of Port Washington, New York
The Port Washington Chapter on Long island has been fundraising for CancerCare for over 45 years. CancerCare of Port Washington holds numerous fundraising events, including our annual Red Stocking Revue, to raise funds for CancerCare's national programs. If you are interested in becoming involved with CancerCare of Port Washington and joining our fundraising efforts, please contact us.
Events
CancerCare of Port Washington holds numerous fundraising events, including variety shows, New Year's Eve celebrations, Zumba-thons, bingo nights, Halloween parties, concerts and more.
These events are made possible by the generous volunteers who dedicate their time and efforts to hold engaging community events that benefit CancerCare. These events also help raise awareness of how CancerCare can help anyone affected by cancer.
View Upcoming and Past Events

Buy Tickets for Red Stocking Venue




Long Island Office Open House
CancerCare recently held an open house to celebrate the reopening of its Long Island office. View photos from our event below.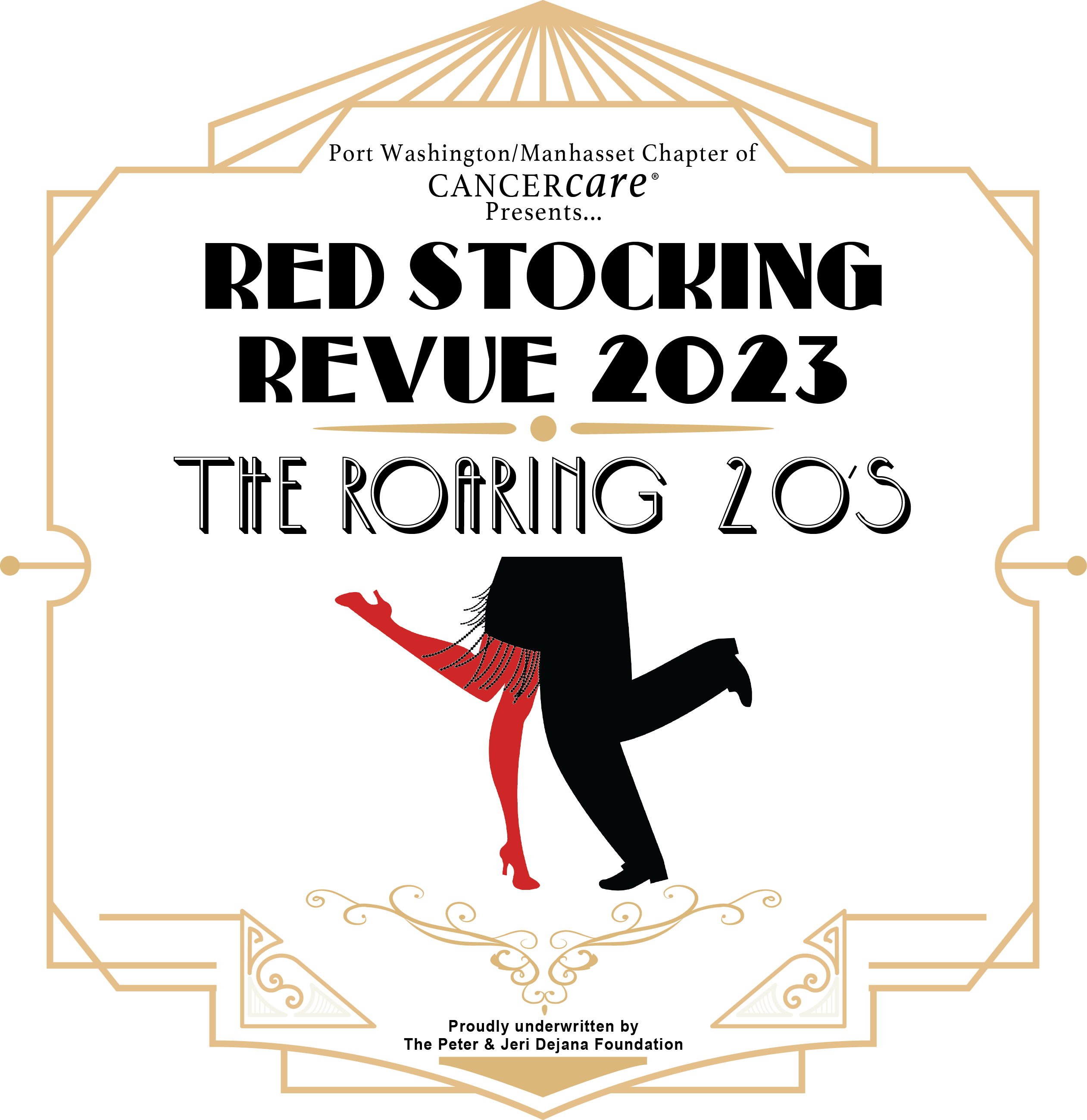 About the Show
CancerCare of Port Washington's Red Stocking Revue has been delighting audiences on Long Island for over 50 years! This lighthearted variety show showcases some incredibly talented local singers, actors and dancers and raises funds for CancerCare. From our amazing teens, to our talented kickline, and our youthful veterans, you will be entertained with a variety of musical and comedic numbers. A team of dedicated volunteers write song parodies and comedic skits (commercial stage ads) for local business sponsors, which are performed as part of the show as a unique way to showcase our community supporters. These sponsors help fund the production of our show and encourage audience members to support Long Island businesses. Our amateur, all-volunteer cast comes from all over Long Island and donates months of their valuable time to ensure the Red Stocking Revue's continued success.
About Us
History
The Port Washington Chapter has been fundraising for CancerCare's national programs for over 45 years. Fundraising events include the Red Stocking Revue, which has long been a beloved production in the Port Washington community.
CancerCare is incredibly grateful to all those who dedicate their time to support the free services we provide to anyone affected by cancer.
Board of Directors 2021-2023
President: Tim Lavelle
Program Vice President: Renée Gennarelli
Treasurer: Beth Useloff
Membership VPs: Jennifer Scotto-Robinson and Barbara Faticone
Fundraising VP: Tina Revelant
Recording Secretary: OPEN POSITION
Dues Secretary: Rita DeLucia
Corresponding Secretary: Joanne Rowland
Social Secretary: Maria Augustino
Social Services: Lisa Idol
Technology: Chris Paradise
Communications: Patty Atkins
Marketing: Andrea Galvez
Historian: Karen DeLillo
Nominating Committee: Rich Atkins, Paul Revelant, Kat Carroll, Geri DeJohn and Sue Bishop Copeland
Contact Us
P.O. Box 611
Port Washington, NY 11050
Connect With Us
Donate Now
CancerCare of Port Washington's main goal is to help support the free, professional services CancerCare provides.
In CancerCare's fiscal year ending June 30, 2021:
CancerCare provided 186,614 services to people affected by cancer, serving clients with 102 different types of cancer in all 50 states.
Our oncology social workers answered 49,092 calls to our Hopeline.
Our staff provided 45,063 hours of emotional and practical support through our Hopeline, individual counseling, support groups, community programs and more.
CancerCare provided $76.4 million in financial and co-payment assistance to 30,944 people for costs including transportation, practical needs and to pay for cancer medications.
We distributed 807,344 print and digital publications to people living with cancer, caregivers, loved ones and health care professionals.
Leading experts in oncology led 74 CancerCare Connect® Education Workshops, from 136 faculty members and 98 partner organizations, drawing 49,166 participants.
The Pet Assistance & Wellness (PAW) Program helped 466 clients keep their pet in the home.
Connect With Support Services
If you or a loved one is coping with cancer, our master's-prepared oncology social workers at CancerCare's Long Island office provide free, professional support services including:
You may view specific services available at our Long Island office and also our national services.
View Services

You may also search for additional resources using our online Helping Hand Resource Database.
Search for Resources