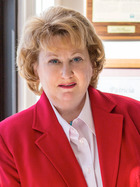 Patricia J. Goldsmith joined CancerCare in 2014 as Chief Executive Officer, overseeing the vision and direction of the organization. Ms. Goldsmith brings more than 20 years of nonprofit management and strategic planning experience to the role, and has a proven track record of success in hospital and physician academic organizations, as well as nongovernmental health care organizations.
She previously served as Executive Vice President and Chief Operating Officer at the National Comprehensive Cancer Network (NCCN). In this role, Ms. Goldsmith was responsible for the overall operations of NCCN. She reported directly to the Chief Executive Officer and provided oversight of the functions of NCCN Oncology Outcomes Database, NCCN Oncology Research Program, Finance, U.S. & Global Business Development, Marketing and Communications, Public Affairs, Professional Publications, Best Practices, Analytics, Research & Consulting, Conferences and Meeting Planning, Media Programs, Continuing Medical Education and Grants and Information Technology. In addition, she was responsible for public policy initiatives at the Federal level and national initiatives related to payors and employers including the education related to these constituencies. Ms. Goldsmith was also responsible for the NCCN Foundation, established as the philanthropic affiliate of NCCN to embrace the NCCN mission of improving the quality and effectiveness of care provided to patients with cancer.
Ms. Goldsmith formerly served as Vice President for Institutional Development, Public Affairs and Marketing at the Moffitt Cancer Center in Tampa, Florida – an NCCN Member Institution. There she oversaw the Moffitt Cancer Center's Foundation, Public Relations, Marketing, and Business Development functions in addition to fundraising initiatives. Before joining Moffitt, she developed and directed all managed care activities for the University of South Florida College of Medicine.
A frequent speaker at national meetings and symposia, Ms. Goldsmith was chosen by U.S. Representative Bill McCollum (R-Fl.) in 2003 to join a panel of 100 thought leaders representing every stakeholder interest in health care. This unique effort focused on building consensus about what structural changes could be made in our nation's health care delivery system to assure quality health care for future generations. Ms. Goldsmith participated as a faculty panel member at Bristol- Myers Squibb's 2015 Market Access Summit focusing on the patient experience from diagnosis, through treatment, and beyond, and at the Fifth Annual Association for Value Based Cancer Care (AVBCC) Conference where her session focused on patient engagement and patient assistance. Prior to these conferences, Ms. Goldsmith participated as a speaker at the 16th Annual Patient Assistance & Access Programs (PAP) Meeting, her session entitled, "Cross-Functional Strategies for Advocacy Relationship Development," and as a panel participant at the Turning the Tide Against Cancer Through Sustained Medical Innovation Conference, her session entitled, "Addressing the Value and Cost of Cancer Care."
Ms. Goldsmith has studied at the Pennsylvania State University, the University of Missouri Bloch School of Business and the Harvard School of Public Health. She was a winner of the 1999 Distinguished Women in Business Award sponsored by the Business Journal of Tampa Bay and also was named the 1999 Leukemia Society Woman of the Year, an award based on her philanthropic efforts on behalf of the Leukemia Society. Most recently, Ms. Goldsmith was named to Forbes 50 Over 50 Vision List which was established in partnership with Mika Brzezinski's "Know Your Value," and highlights women over the age of 50 who have achieved significant success. Ms. Goldsmith was nominated based on her contributions to the health care field as CEO of CancerCare and for her long history of cancer advocacy.