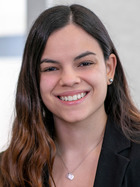 Alyson Erardy, MSW, LMSW
Caregiver Program Coordinator
Alyson is the Caregiver Program Coordinator at CancerCare, providing counseling to people coping with cancer, their caregivers and people who have experienced the loss of a loved one.
Presentations and publications:
"Stress Management: Patients and Caregivers" (June 2021)
Alyson shares, "What I love most about my work at CancerCare is the ability to connect with caregivers. Caregivers are often called the unsung heroes of the cancer experience, and it's very rewarding to speak with them, provide support, give information and create safe spaces for them to process their feelings. Their determination, love and care for their loved ones is unmatched. It's an honor and an inspiration to join them on their cancer journey for however long while also reminding them that they, too, deserve to take a breath and rest."