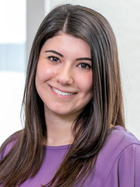 Lauren Chatalian, MSW, LCSW
Director of Advocacy/Women and Children's Program Manager
Lauren is CancerCare's Director of Advocacy and Women and Children's Program Manager. As an oncology social worker at CancerCare, Lauren provides supportive services to individuals and families impacted by a cancer diagnosis. Lauren maintains a clinical concentration in Women's Cancers and Childhood Cancers, keeping current of changing trends and new knowledge that affect the programs and delivery of clinical interventions.
Lauren coordinates programmatic activities and outreach related to the Women's Cancers Program and CancerCare for Kids. She creates and implements numerous support groups and community events throughout the year. Lauren also participates in local and national presentations, workshops and advocacy boards. She has been a speaker in several CancerCare Education Workshops as a leading expert in the field.
Lauren is a member of the National Association of Social Workers (NASW) and the Association of Pediatric Oncology Social Workers.
Additional training:
Certificate Program in Clinical Supervision
Seminar in Field Instruction (SIFI)
Awards and boards:
NAPBC Advocacy & Outreach Committee
Athenex Oncology MBC Advocacy Council
Presentations and publications:
Lauren shares, "Hearing that I, or CancerCare, made a difference in someone's life is really rewarding. It's hearing the genuine gratefulness from people who are going through such a challenging time. To be able to observe a client's progress throughout each session, to see changes that are made. Honestly, to just be there and listen to someone is rewarding in itself. To be connected with other social workers with similar values, similar vision is really gratifying. It's incredible to be a part of something important every day."